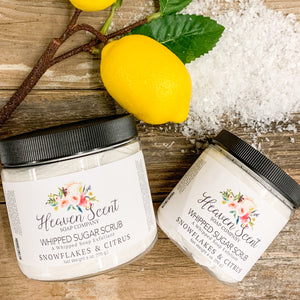 Snowflakes & Citrus Whipped Sugar Scrub
Regular price
$16.00
$0.00
By far, your favorite product and ours too! It's a whipped soap and a scrub. You'll be amazed at how soft your skin feels after just one use. It literally does all the things!
It cleanses
It moisturizes
It exfoliates
The question I get asked the most is "How do I use it?" The answer is "Any way you want!" You can keep it by the sink for hand washing. You can keep it in the shower and use all over. My favorite way to use it is for shaving legs!
Our Whipped Sugar Scrub is available in two sizes: 6 oz and 11 oz.
Snowflakes & Citrus is an amazing blend of frozen lemon zest, fresh squeezed tangerine juice and sugared snow crystals. It's definitely a winter favorite!
---
Share this Product
---
More from this collection