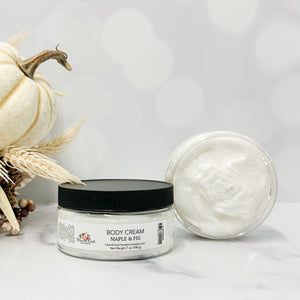 Maple & Fig Body Cream
Regular price
$18.00
$0.00
Introducing our Skin Saver Superhero: The Luxurious Body Cream!
Prepare to embark on a skin-saving adventure with our lusciously thick, ultra-hydrating body cream. It's your trusty sidekick in the battle against dry, thirsty skin, just in time for those seasonal shifts that leave your skin crying out for help!
Picture this: a rich, velvety texture that practically melts into your skin, leaving behind a trail of pure silkiness. It's like a cozy blanket for your body, but without the weight!
What's in this magical potion, you ask? Brace yourself for the lineup of skin-loving ingredients that'll have you feeling like a skincare superhero. We've infused our body cream with the goodness of aloe vera, sunflower, jojoba, meadow foam oils, creamy goat's milk, and a dynamic duo of vitamins E and C. Your skin is in for a real treat!
But wait, there's more – we're committed to the clean beauty revolution. No parabens, no phthalates, and definitely no artificial dyes in our superhero formula. Your skin deserves the best, and that's exactly what it's getting!
So, whether you're facing winter's chill or summer's scorch, our all-natural body cream is here to save the day. Get ready to unleash the power of irresistibly smooth, radiant skin with every application. Embrace your inner superhero, because with our body cream, you're ready to conquer the world – one silky-smooth stride at a time!
Indulge in the essence of romance and opulence with our Maple & Fig fragrance oil. It envelops your senses in a warm, passionate embrace. Immediate top notes burst forth, featuring the succulent aroma of ripe figs, lusciously caramelized sugar, and a delicate hint of sea salt. Deep within, the heart of this fragrance is composed of rich, velvety brown sugar. As the scent evolves, a harmonious blend of dark musk and amber in the base layers reinforces its luxurious depth.
Our meticulously crafted fragrance oil is further enhanced by the infusion of natural essential oils, including the bright zest of lemon, adding a delightful twist to an already captivating scent experience.
Details: Net Weight 9 oz
---
Share this Product
---
More from this collection