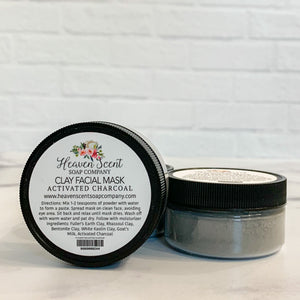 Activated Charcoal Clay Facial Mask
Regular price
$8.00
$0.00
Our Activated Clay Facial Mask will balance, normalize and revitalize your skin. Use this mask  once a week to tighten pores, tone skin and brighten your complexion.
This mask combines several natural clays known for their abilities to draw out impurities, smooth, soften, gently exfoliate, and even out your skin! Paired with rich goats milk powder and activated charcoal to give you that perfect facial. 

~Bentonite Clay - Known for its deep drawing ability, Bentonite Clay works like a magnet pulling toxins and impurities from the skin. Great for oily and acne prone skin. It also reduces, pore size, scars and stretch marks.

~White Kaolin Clay - Widely used in the skin care industry for a reason. The exfoliating and polishing action of this clay gradually reduces the appearance of pores and puffiness. It can also help reduce the look of fine lines and wrinkles, as well as even skin tone.
~Fuller's Earth Clay - Is also a wonderful clay for drawing out impurities, dirt and oil from the skin, is rich in magnesium and is widely used for lightening and brightening the skin.
~Rhassoul acts on the skin's surface and removes excess dirt and sebum, allowing your pores to breathe. That means that you'll see a reduction in acne, blackheads and pimples. Exfoliant and clarifier – The mineral composition of rhassoul clay helps to reduce skin dryness and improve skin clarity.
~Activated Charcoal - Draws out toxins and pulls every impurity out of the pores making it great for treating acne and blemishes

~Goats Milk Powder - Goat's milk contains precious skin minerals like selenium and is loaded with vitamins, particularly vitamin A, the most important vitamin for the skin. Goat's milk is rich in essential fatty acids and triglycerides. As with other milks, goat's milk contains lactic acid, which is an alpha hydroxy acid (AHA). It assists to gently slough off dead skin cells and helps to hydrate and brighten the skin.
Directions:
Scoop out a teaspoon of clay and mix with just enough water to make a smooth paste. Apply to clean skin and wait until dry, approximately 20 minutes. Rinse off with warm water while gently massaging the skin.
Details: Comes in a 2 fl. oz. jar. Contains approximately 12 applications.
---
Share this Product
---
More from this collection