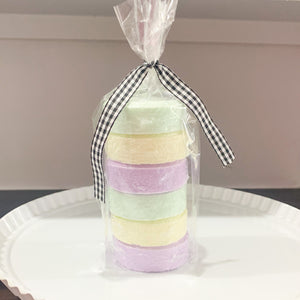 Shower Steamer Pack
Regular price
$17.00
$0.00
Turn your shower into a spa! Our shower steamers, infused with essential oils and menthols crystals, burst to life when they come in contact with the water in your shower. They fill your shower with all of the benefits that aromatherapy has to offer!
The pack contains 6 steamers, 2 of each scent:
~Sinus Relief (Peppermint, Eucalyptus, and Menthol)
~Energy (Lemon, Orange, and Menthol)
~Relax (Lavender and Menthol)
Details: Each steamer is approx 2 oz 
Note: Shower steamers are not meant to be used in a bath. The essential oil content is too high to soak in. These are only meant for your shower. Please use caution around children.
---
Share this Product
---
More from this collection