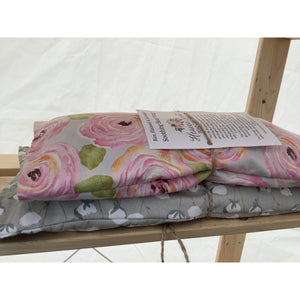 Heat Therapy Packs
Regular price
$35.00
$0.00
Handmade. 
All Natural. 
Nontoxic.
Beautiful Heat Packs. 
For Women.
Our Heat Packs are here to make "those days" just a little easier. Whether you are struggling with period cramps, pain from chronic illness, daily aches, pregnancy discomfort, stress, or overwhelming anxiety our Heat Packs were designed with YOU in mind!
A LITTLE ABOUT OUR PACKS:
- They contain ONLY rice and a lot of it (5 pounds)! Other fillers such as flaxseed and dried herbs can release their oils over time and cause your Pack to smell rancid.
- They come with a Cover to help your Pack stay clean!
- They do not have sewn-in channels. This allows your Pack to be more versatile and mold to fit whatever part of your body needs Heat Therapy.
- They are 100% ALL NATURAL. We use only cotton fabrics and threads to make our Packs.
HOW TO USE YOUR PACK:
- Lay across your chest, shoulder to shoulder, for the comforting relief of stress and anxiety.
- Lay across your abdomen for period pain and discomfort.
- Lay across any part of your body to relieve aches and pains.
- Place under the covers (near your feet) on cold nights!
Details: Our Heat Packs measure 9x15 and weigh 5 lbs. They are 100% Handmade so sizes may vary slightly.
---
Share this Product